Curriculum Model
There is nothing more important than that quality of teaching and learning across the school — this is our core business day in day out. Positive relationships between staff and students are pivotal to success in any school, but particularly at Armthorpe; our children need to feel loved, supported, guided, and valued to get the best from them. As such with the support of the trust, to improve the consistency of the quality of education, we are developing a united approach to three key areas:
Subject curriculum planning: Long, medium, and short-term expectations
Our teaching and learning model
The use of positive assertive language
KS3 Curriculum Design: Years 7, 8, and 9 (September 2021 onwards)
Foundation Phase: Our Key Stage 3 curriculum allows students the opportunity to study a broad and balanced range of subjects. We are in the process of interweaving our school values and the promotion of British Value as an integral feature across the curriculum, but they are taught more explicitly through our PSCHRE and assembly programme. Language and vocabulary development are taught specifically through our Reading programme, which also addresses many religious and sociological factors, in addition to encouraging and developing reading for pleasure. We will be implementing a KS3 character development challenge (built around our values) which will encourage family reading for pleasure in addition to a range of other activities derived to compliment and enrich students' knowledge and experiences beyond the curriculum.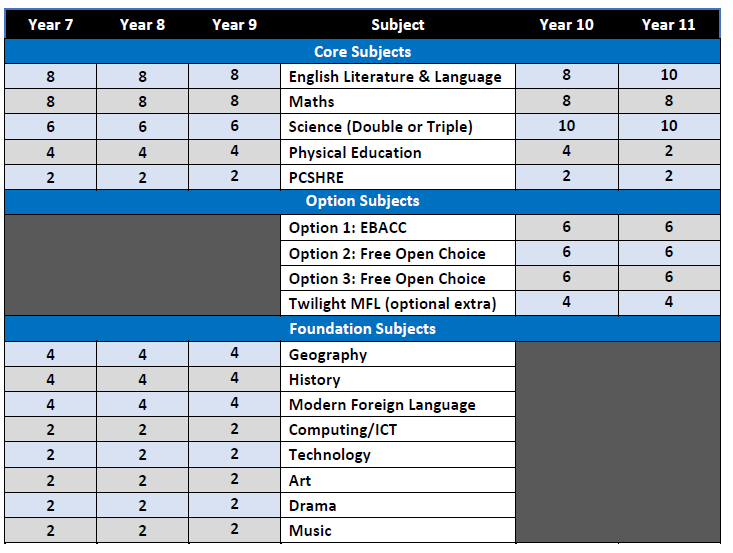 Figure 1 (Numbers are based on 55-minute lessons on a two-week timetable — 50 lessons in total)
Nurture Phase: Students who transition in Year 7 that require a greater degree of support to access the secondary curriculum follow a slightly adapted curriculum model. The foundation phase is tailored to the bespoke needs of each cohort on entry but fundamentally alongside all other core and foundation subjects, students study additional functional English and Maths rather than French, and time is designated to activities such as independent travel and the development of leadership and communication skills. A stage rather than age approach is utilised to narrow gaps with the intention of building students' skills and knowledge to allow them to access KS4 options of their choice as they progress through school.

We are currently in the process of redesigning our KS3 curriculum to ensure there is a mastery approach across the school with a focus on depth rather than the breadth of learning. Our planning has been informed by much research, but fundamentally the seven principles of curriculum design identified by Dylan William (Principled Curriculum Design). We are realistic in our planning; a curriculum takes time to develop and embed as a school improves. At our current stage of development, in addition to balance, four principles are integral to our planning:

Vertical Subject Integration
Progression by carefully sequencing and interleaving knowledge to ensure both teachers and students have clarity about what 'getting better' at a subject, skill or concept means.

Appropriate
Planning for progress: Challenge matches students' levels of knowledge and maturity — expectations of what students can achieve are realistic, high but not unreasonable.

Focused
The curriculum is manageable. Important knowledge is key; big concepts/ideas within a subject are identified, taught, reinforced and frequently interleaved to ensure learning is sustainable and secure within the long-term memory.

Relevant
Subject areas seek to make real-life connections to our students and community to enable learners to see the value/purpose of learning and subsequently make informed choices.

Over time, we also seek coherence — to make explicit connections and links between subjects and experiences. This however must form phase two of our plans, as at present individual subjects need to focus on the sequenced progression of knowledge and comprehension within their own areas before looking to align across the school.

Curriculum Design: Year 10 and 11
Our Key Stage 4 students are currently on two different curriculum plans. The 2021 plans were initially built around all students studying a vocational sports qualification. Current Year 10 and 11 students are studying four option subjects. Historical attainment data suggests students would benefit from studying one less option choice to enable greater time to develop understanding and mastery of learning across the curriculum. In year changes have been made to address this (see Figures 1 and 2) to give parity and time to all subjects throughout KS4, with the intention of allowing options subjects particularly, the opportunity to develop a real depth of knowledge which is beyond simply just teaching to a specification.