Exams
GCSE Results 2020
What should I do if I am unhappy with my results?
Any student who is not happy with their results should first speak to a member of Academy staff on Results Day. We will be able to discuss with you your options and advise you on what to do next; you may still be able to progress on your chosen pathway even if your results are not what you had hoped for. There is an appeals process but the grounds on which a result can be appealed are limited. Please see the following link for more details:
https://www.gov.uk/government/publications/student-guide-to-appeals-and-malpractice-or-maladministration-complaints-summer-2020
There will be an additional exam season in November which will allow students to sit exams in subjects they would have taken in the summer, but you will need to bear in mind that you will not receive any further tuition or exams preparation from school. Further information on this and resit exam fees will be available on Results Day.
Collection of Exam Certificates
We are pleased to announce that certificates for Summer 2020 are now available to collect from Reception, between 8.30 am and 3.50 pm.
It is very important that you collect your exam certificates and keep them safe. You will very likely need these in the future.
All certificates must be signed for. If you would like another person to collect your certificates on your behalf, they will require a signed letter from you stating your name, their name, and that you have given permission for them to collect your certificates. That person will also need to bring photo ID.
Any certificates not collected after a year of issue will be securely destroyed. Unfortunately, we are unable to provide replacements for lost/uncollected certificates. A certifying statement of results would have to be requested directly from the exam board who will charge a fee for this service.
​Provisional GCSE and Equivalent Results 2019
All examination results are subject to final verification later in the year. Also, there are a number of students whose examination results are subject to a Review of Marking due to them missing out on a higher grade. Therefore, we hope that over the next few weeks the results will further improve. The percentage of candidates achieving grades is shown below.
Please note, due to rounding, the grades may not add up to 100 per cent.
These are the results for 2018/2019.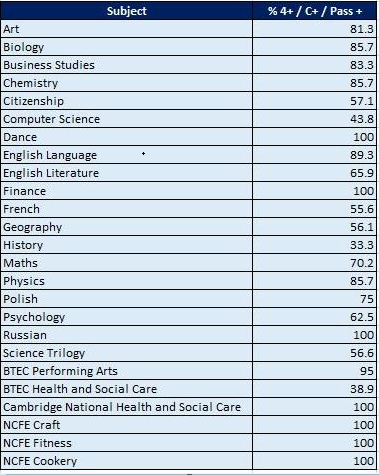 Due to the COVID19 pandemic, centre assessed grades were awarded in 2020. A more detailed breakdown of these grades can be supplied on request.
Exam Guidance for candidates can be found here.