Our Subjects
English & Modern Foreign Languages
Head of Department Mrs T Brigden
Deputy Head of English Mrs N Bridge
Teacher Mr J Aldridge
Teacher Miss G Bromley
Teacher Miss K Keeton
Teacher Mrs L Gittins
Teacher Miss K Keeton
Teacher Mrs C Tivey
Modern Foreign Language
Head of Department Miss C Gray
Teacher Mr L Mayo
All students throughout the school study English, leading to the achievement of two GCSEs in English Literature and English Language in Year 11. All students in Years 7-9 study French, with the option to continue studying this at GCSE. A small cohort of Key Stage 4 students also study German, and from September 2020, a proportion of Year 7 students are additionally studying Spanish.
Our Vision:
Our vision in the Communications Faculty is to provide students with the opportunities, knowledge, and skills to succeed at school and beyond as happy, well-informed citizens.
In English, the curriculum engages students with literature and language, from Shakespeare to the postmodern; non-fiction to novellas and poetry; fantasy to horror; and from the prisons of India to the shores of the Caribbean.
In MFL, students are exposed to the richness of unfamiliar languages as well as the cultures and traditions of the countries where these languages are spoken. As a result, our curriculum raises students' cultural capital and wider aspirations by getting students thinking, questioning, and exploring beyond their everyday experience to make a positive contribution to society.
In this approach, we have been influenced by the work of Emily Style (1996) and her principle of the "curriculum as mirror and window" – a mirror for students to be able to identify their own experience with, but also a window to see beyond their own experience to a greater, richer understanding of the world around them. This balance has been integral to our choice of topics and texts.
English
Please see the attached documents for further information about the English curriculum at Armthorpe Academy:
English at Key Stage 4:
At Key Stage 4, all students have four hours of English a week, as they study for GCSE English Literature and GCSE English Language. Both GCSEs are awarded by Eduqas exam board.
English Literature:
The curriculum for English Literature follows a spiral structure, beginning towards the end of Year 9. In this year, students study poems from the Eduqas Poetry Anthology and Romeo and Juliet by William Shakespeare. In Year 10, students study Jekyll and Hyde by Robert Louis Stevenson and An Inspector Calls by J.B. Priestley, but have the opportunity to further and extend their knowledge of Romeo and Juliet in a unit on crafting thematic and character-based essays. They also retrieve their learning of the Anthology Poems, alongside the study of Unseen Poetry. In Year 11, students re-read the literature texts and, through a one-hour per week programme of modelling and spaced practice, refine their examination skills to ensure they are fully secure in their content and subject knowledge before the examinations.
Homework is interleaved throughout Year 10 for Literature: students complete homework on the topic that they have studied the previous half-term. This ensures that there are as many opportunities for retrieval as possible, and students have the opportunity to apply their knowledge at a distance from the initial point of teaching.
English Literature GCSE is assessed through an examination at the end of Year 11 worth 100 per cent of the final grade.
English Language:
The curriculum for English Language at Key Stage 4 is primarily studied in Year 11. Students begin with Component 2 as the most heavily-weighted unit: studying first the transactional writing styles, before moving on to the non-fiction reading section. After Christmas, students study Component 1 as they practise writing their own narratives and analysing the fiction writings of established authors. After Easter, a specific revision unit allows students to retrieve their learning from earlier in the year and to practise their personal areas of improvement.
Again, homework is interleaved. In Year 11, students alternate each week between completing a 400-word transactional writing task (speech, article, formal letter, informal letter, review, report, leaflet) or a 150-word narrative challenge, which builds up to full-length narratives as the year progresses.
Spoken Language at GCSE level is studied at the end of Year 10, building a specific oracy unit in Year 9, and the speaking and listening skills developed across Year 7 and Year 8 units.
English Language GCSE is assessed through an examination at the end of Year 11 worth 100 per cent of the final grade, alongside the non-weighted spoken language task.
English at Key Stage 3:
The Key Stage 3 English curriculum at Armthorpe meets and exceeds the requirements of the National Curriculum. We see these requirements as the absolute basics, and through our curriculum choices and range of texts have our own 'minimum literary entitlement' which ensures that students have a broad knowledge of the canon combined with writers of minority backgrounds to expand their world view.
Examples of this include the study of three Shakespeare plays (The Tempest in Year 7, Macbeth in Year 8, and Romeo and Juliet in Year 9), seminal world literature (The Giver as an American postmodern novel by a female author; poetry from the Caribbean, South America, Pakistan and India; non-fiction texts from Russia and India). We study more than two canonical authors in-depth each year alongside a range of poets.
Alongside the three hours of English content lessons, Year 7 and Year 8 students study an additional hour of grammar, which explicitly teaches the skills of technical accuracy and enhanced literacy that students need to be successful across the school curriculum and beyond.
Homework at Key Stage 3 alternates between vocabulary and spelling learning homework, which pre-teach students the language they will need for the units they are studying, and extended writing tasks on their current or past topics.
Mathematics & Business, Computing, ICT & Enterprise (BITE)
Maths
Head of Department Miss L Bowkett
Depty Head of Maths Mr T Scotland
Teacher Miss E Farnell
Teacher Miss R Narey
Teacher Mr G Martin
Business, Computing, ICT & Enterprise (BITE)
Head of BITE Mrs S Kenyon
Teacher of BITE Mr O Kenyon
All members of the faculty are passionate about teaching and engaging students. Our aim is to help students overcome any difficulties they may have and enjoy their lessons. We aim to provide an environment where students feel comfortable and confident whatever their ability.
Our Curriculum
The Armthorpe Academy maths, business, and computer science curriculums are built on the following principles:
Entitlement – We believe all children have the right to learn what is in our curriculums and we ensure they are taught the whole of it.
Mastery – We want all children to achieve a full understanding of the knowledge specified in the curriculum for each year, and we support and challenge them so this understanding is to be retained and developed over time.
Stability – We don't constantly amend the Curriculum, while we make occasional adjustments in the light of feedback and experience, we aim for stability over many years, so all children can experience their own successes in our subjects.
Concepts, not context – The curriculum is intended as a concise specification of knowledge and content to be taught and learned; our subject experts bring it to life in relevant, engaging, supportive, and challenging ways.
Mathematics
Maths in KS3:
The maths curriculum has been carefully designed to continuously interleave content, enabling students to revisit prior knowledge. The curriculum focuses on teaching in a sequence that provides building blocks for all students to access future topics and experience success in maths.
In Year 7 and 8 we focus on empowering students to become confident, fluent, and resilient mathematicians. In Year 9 we build on this by providing further support and challenge to delve deeper into mathematical topics and bridge student learning and independent study skills from KS3 into Year 10 and 11.
Maths in KS4:
In Year 10 and 11 our students enhance their maths knowledge base even further, regular low stakes quizzing and daily retrieval activities ensure they continue to become fluent and resilient mathematicians. Key mathematical skills are embedded further through problem-solving, exam practice, and student-specific teacher interventions which ensure all students are mathematically fluent and able to take their next steps in education with confidence at the end of Year 11.
Homework in maths:
Hegarty Maths is used as our main platform for homework in KS3 and KS4. Hegarty Maths supports our students to become resilient, independent learners, attributes they will need to confidently take their next steps in education beyond year 11.
Practical and Design Facility.
Computer Science and ICT
Key Stage 3 – Computer Science/IT/Digital Literacy – the curriculum provides necessary transferable IT skills required for all aspects of school, future needs, and prepare students who want to follow a computer science route providing the required underpinning knowledge. To ensure students are equipped with the appropriate knowledge of the risks/threats associated with online technology/digital devices to keep safe and to identify if themselves, or others, are at risk.
Key Stage 4 – Computer Science – the curriculum covers all required topics as detailed in OCR GCSE specification. Year 10 focuses on programming skills and Exam 2 topics as these are areas that are both practical and theoretical that require development time to build the necessary skills to be able to apply to real-world scenarios. Year 11 covers Exam 1 topics which are theoretical, but students may have prior knowledge of concepts such as wired/wireless technologies; LANs / WANS; threats to computer systems/data etc.
Business Studies
Key Stage 4 – Business Studies
The business curriculum covers all required topics from the NCFE L1/2 Business and Enterprise Technical Award. Y10 focuses on the exam unit and students will be introduced to concepts such as understanding entrepreneurship, the marketing mix, and the impact of internal and external influences on a business.
Y11 focuses on unit 2 which is assessed by a controlled assessment. Throughout unit 2, students will learn about the resources needed for business and enterprise planning. This includes resource planning, HR planning for a business start-up, business finance and finally, how to create a business plan.
The NCFE Business and Enterprise course offers students a chance to understand the key concepts of business and enterprise, and then the opportunity to apply their knowledge and understanding to the project. This will allow students to apply what they have learnt to a real-life scenario and develop skills they can use in the future.
Art & Technology, PE, Performing Arts & Practical & Design
Art & Technology (Performance Faculty)
Teacher of Art & Tech Miss C Holding
Teacher of Art & Tech Mrs G Hutchinson
Teacher of Technology Mrs J Reid
Physical Education (Performance Faculty)
Head of Performance Mr A Petrie
Head of PE Miss M Kelly
Teacher Miss J Rusby
Performing Arts (PA)
Head of Department Mr R Billings
Teacher Miss L Stothard
Ethos
Our aim is to provide a creative environment where students can develop into independent learners, preparing them for either further education or practical work in the wider world.
The faculty has been combined to accommodate all the practically based subjects and to share experiences and broaden knowledge across the curriculum. Our facilities include designated woodwork and metalwork rooms, two specialists catering facilities, a large Performing Arts space, a Sports Hall, Activity Studio, Astroturf for multi-sport use, traditional courts, and a large playing field. These facilities and subject-specific staff are dedicated to raising the achievement of all students.
Please see the below documents for further information about the Practical & Design curriculum at Armthorpe Academy:
Our Curriculum
KS3 Focus
The focus of the KS3 curriculum is a combination of practical and theory content. It is designed to allow students to creatively explore a full range of techniques and skills which will either set up their KS4 option or be used after their school life.
We aim to equip students with interpersonal skills such as independence, leadership attributes, and communication skills every lesson, which will develop them for their future both at Armthorpe Academy and beyond.
KS4 Focus
Art & Design
GCSE Art and Design: Fine art (AQA)
Fine Art students study drawing, painting, printmaking, mixed media, and photography throughout this course. The work of artists/designers and craftspeople from contemporary and a historical context is used to inspire and inform.
Throughout the entirety of the course, students will work in a range of media to develop their own ideas and produce a meaningful, informed response to their projects. Students are highly motivated, creative, and able to work independently on practical work and critical analysis. Students are also encouraged to visit exhibitions and galleries.
Students are required to complete two components in GCSE Art and Design: Fine Art. Component 1 will see students engaging in two projects and Component 2, in Year 11, will set an external assignment by AQA ending with a practical exam.
AQA GCSE Art and Design: Three-Dimensional Design (AQA)
Students studying the three-dimensional design course, work in a range of three-dimensional processes and techniques. Students are taught how to construct, model, and design outcomes, responding to design briefs and their own research/ideas.
Students will produce drawings in a wide range of media and increase their observational and recording skills. Artists, Sculptors, Designers, and craft workers provide inspiration and inform student projects. Alongside working in other media, students will develop their skills in clay, wire, card relief, and mixed media. Students are highly motivated, creative, and able to work independently on practical work and critical analysis.
Students are required to complete two components in GCSE Art and Design: three-dimensional design. Component 1 will see students engaging in two projects and Component 2, in Year 11, will set an externally set assignment by AQA ending with a practical exam.
Hospitality & Catering
GCSE- Catering/ Food and Nutrition (WJEC)
This course requires a combination of practical-based coursework designed to stretch and challenge students with their techniques within cooking and baking. The theory which underpins this requires them to assess the foods nutrition values and to design a menu, which meets their specification which they will make for their practical exam. The theory exam for this course assesses a blend of knowledge about different food groups and catering techniques.
Performing Arts
GCSE-Performing Arts- (Btec Tech Award)
This is a blend of coursework, both practical and theory, to produce a portfolio of evidence in accordance with a brief. The coursework requires students to research and examine other practitioners work, developing skills and techniques within a performing arts setting and have the opportunity to use their own creativity in responding to a brief.
Physical Education
GCSE-Physical Education (OCR Cambridge National Sports Studies)
In the Physical Education course, students are assessed in three ways: Practical Sport, Coursework, and an Exam. The practical sport is a combination of team and individual sports which are assessed by the exam board through external moderation. The students have flexibility in choosing convention sport taught through KS3 and KS4 games, as well as many sports which students compete in external to the school. The coursework requires students to assess their own strengths and weakness and producing either a written piece, a presentation, or verbally answer questions. The exam tests a range of subjects around Physical Education; Anatomy and Physiology, Sociology of Sport, Psychology of Sport, and what constitutes a Healthy Active Lifestyle.
GCSE-Physical Education (OCR Cambridge National Sports Science)
In the Sports Science course, students are assessed in three ways: Practical Sport, Coursework, and an Exam. The practical section of the course is based around fitness components, tests for these fitness components, and allows students to create their own training program. The coursework requires students to learn about Sports Nutrition and the Body's response to exercise, students are assessed internally through controlled assessment pieces. The exam tests the knowledge of injuries, reducing the risks of them occurring. and treating sports injuries.
Science Faculty
Head of Department Mr D Farry
Deputy Head of Science Mrs V Flynn
Teacher Mrs L Buckley
Teacher Mrs L Farry
Teacher Mr M Mitchell
Science Technician Mrs E Keeton
Vision and Mission Statements
Our vision is to enable students to achieve their potential by offering engaging lessons and opportunities which develop students' enthusiasm for Science and the scientific skills needed in everyday life or further education.
Mission Statements
Strive to ensure all students progress (at least) in line with expectations by providing the highest-quality learning opportunities.
Accurately assess/monitor student progression, provide meaningful feedback, and implement timely and effective intervention where necessary.
Develop motivated, inquisitive, and independent students who are responsible for their own learning.
Develop the scientific, practical, literacy, and numeracy skills students will need in everyday life or further education.
Nurture students' enthusiasm fr Science during lessons and through a range of extra-curricular opportunities.
Our Curriculum
KS3
Students will study a broad range of key scientific concepts across KS3 with each concept getting more challenging as students progress through the course. These concepts aim to provide students with a suitable knowledge basis and an advanced skill set for GCSE.
Programme of study:

There is an additional focus on developing skill throughout KS3. These include working scientifically, mathematically, and literate. These core skills are needed in order to access GCSE successfully and essential for future life. Students will develop these skills each year initially in the transition topic and continue to master them over the rest of the year.
Students will be assessed throughout KS3 in the short end of topic assessments, eleven in total across each year. The assessments aim to establish how well the students are progressing in their scientific knowledge and skills while providing timely feedback to support students in improving. Furthermore, students will sit two larger, cumulative assessments in autumn 2 and summer 1 which with further assess their acquisition of knowledge and skills.
Students are guided in selecting the most appropriate GCSE Science course, opting for either AQA GCSE Combined Science Trilogy (2 GCSEs) or AQA Separate Science Triple (3 GCSEs). Both trilogy and triple students have five hours of science per week.
GCSE Combined Science Trilogy
Students studying Combined Science Trilogy will cover the three science disciplines in a little less depth than triple. It takes a logical and coherent journey through familiar and new content, building on knowledge and understanding acquired at KS3. We know that practicals are not only one of the most engaging parts of science education but are also essential for students' understanding of scientific theory. Therefore practical work is embedded throughout the course.
Students will study: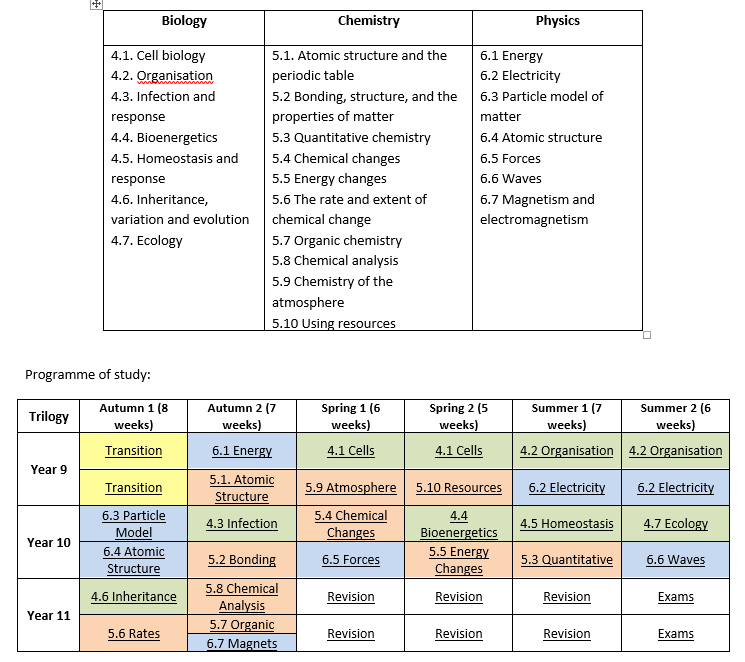 GCSE Separate Science Triple
Studying the separate sciences means students will cover more content than GCSE Combined Trilogy. GCSE Biology, Chemistry, and Physics will provide great preparation for AS and A-level, without overlapping content. We know practicals are not only one of the most engaging parts of science education but are also essential for students' understanding of scientific theory. Therefore practical work is embedded throughout the course.
Students will study: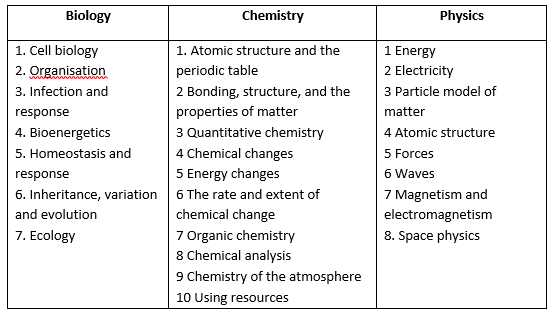 Programme of study: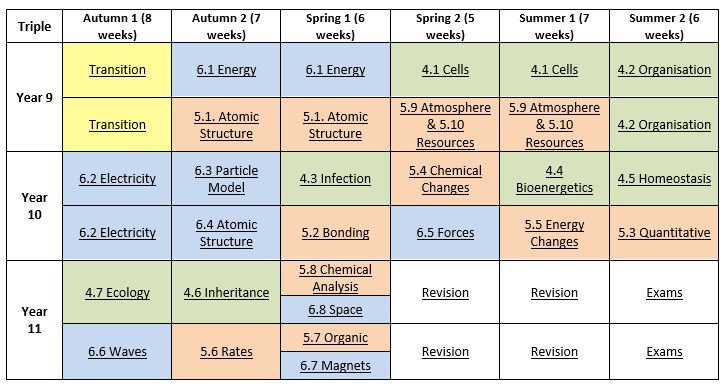 The course is assessed by 100 per cent examinations at the end of year 11. There are six papers; two biology, two chemistry, and two physics. All papers are 1 hour 45 minutes. Students can sit either foundation (grade 1-5 achievable) or higher-tier (grade 4-9 achievable). Each paper is equally weighted and has 100 marks.
The science faculty offer a range of trips which allow students to continue to study science outside of the classroom. Time is also dedicated in the curriculum for students to complete engaging projects which help foster their enthusiasm for science and develop independent skills.
The Science department offers a variety of revision sessions and one-to-one tutoring sessions for KS4 students to support them during their exam preparations.
Geography, History & Relationships, Sex & Health Education
Geography
Teacher Miss N Chadwick
Teacher Mr S Bramman
Teacher Mr L Gallagher
History & Religious Education
Head of Department Mr B Hepworth
Teacher Mrs K Sowden
Teacher Mr J Law
Our Vision:
We are on a journey with our students to create knowledgeable and well informed future citizens who have a balanced, well-educated view of the world and seek to make an active contribution to it all levels of society.
We aim to equip our students with the skills and resilience to have a positive contribution to the world, and a clear understand of themselves, but also the world issues, past, present, and future.
KS3 Curriculum
Geography
Geography at KS3 is designed to give students a voyage across planet earth and visit its lands, cities, habitats, and ecosystems. Students will develop a sense of awe and wonder at the complex and diverse nature of both human and natural worlds and a sense of their place in this dynamic place we call home.
Topics range from local area studies and map-skills through to the human impact of cities and the causes and effects of climate change and global warming. Students will have an insight into how and why we impact our planet and how we can minimise that going forward.
Geography is about places, people, plants, and partnerships as well as developing cultural understanding and values that will allow us to sustainably live, work, and play.
Geography at KS3 is exciting, informative, and life-enhancing. We look forward to sharing it with you.
History
The intention of the KS3 curriculum is to provide a broad, straightforward and engaging study for students. It provides a balanced blend of British and World history, accompanied by a range of modules that focus on specific skills. Each year has exposure to a broad, chronological study, a skills module, one thematic study, and two detailed studies on a specific period of history.
Y7 students begin with an introductory module that teaches them the necessary skills to succeed in history. They then move onto learning about the history of Britain from 1066 to the 20th century, along with standalone modules about crime and punishment, witchcraft, and the Tudors.
Y8 students start with the local history study of Doncaster. They then learn about the history of the United States and are taught standalone modules about the slave trade, warfare, and the women's suffrage movement.
Y9 students are taught about the two world wars and the holocaust. They then learn about the history of Russia, key individuals in world history, and conflict in the Middle East.
KS4 Curriculum
Child Development
Child development is a new BTEC Tech Award at Armthorpe Academy. This course is ideal for students who are seeking to work within the early years' sector, focusing on the learning, development, and care of children from birth to five years.
The course gives learners the opportunity to develop applied knowledge and understanding of child development and growth up to the age of five. It looks into how children learn through play and how meeting the needs of individual children will support their development, play and learning. It will allow students to progress and develop the skills they need if they are seeking to go into the early years' sector plus a range of health care roles such as paediatricians, psychologists, occupational therapists, and speech and language therapists.
Geography
Geography at KS4 follows the Eduqas B specification. It is a two-year course that covers Human, Physical, and Environmental topics as well as developing student's skills, understanding, application, and evaluation abilities.
Theme 1 – Changing Places-Changing Economies. This looks at the changing face of the human planet and our impact on it. Focussing on towns and cities, this topic gives students an understanding of the variety of human habitation around the world and how we need to make ourselves and our cities more sustainable. Topics include urbanisation, sustainable cities, and development.
Theme 2 – Changing Environments. This topic looks at the changes occurring in the natural world and the interface between it and ourselves and focuses on how we impact the natural world and vice versa. Topics include rivers, coasts, weather, and climate change.
Theme 3 – Environmental Challenges. This looks at how humans and the natural world affect each other and how there is a close relationship between the two. Students will develop an understanding of long-term stewardship and how we can rectify the environmental mistakes of the past. Topics include desertification, deforestation, and water security.
Health and Social Care
Health and Social Care is a BTEC Tech Award which is aimed at students gaining an understanding that Health and Social Care is part of everybody's life. The qualification will enable students to have an understanding of the development of individuals and the life factors that can impact an individual's development.
It will also teach students the skills they need in order to work within this sector. They will gain knowledge on the different employment areas within Health and Social Care and the importance of these to an individual. The course will help inspire students to work in a sector that has such a huge impact on people, providing them with rewarding careers in the process. Students will gain the literacy skills within their coursework that they need to move forward to post-16 courses.
History
Topics covered in History at KS4 include Changes in Health and Medicine c500 to the present day, including a historical environment study focused on the Western Front (2020) or Florence Nightingale and Scutari (2021 and 2022); The Elizabethan Age 1558-1603; USA-A Nation of Contrasts 1910-29; The Development of Germany, 1919-1991.
Students study the subject for two to three hours per week.
Psychology
Psychology is the study of the human mind and behaviour, taking various theories and environmental issues into account. Students are challenged to complete A-level standard work on topics including:
Development – How did you develop?
Memory – How does your memory work?
Psychological problems – How would psychological problems affect you?
The brain and neuropsychology – How does your brain affect you?
Social influence – How do others affect you?
Criminal psychology – Why do people become criminals?
Sleep and dreaming – Why d you need sleep?/Why do we dream?
Language, thought, and communication – How do you communicate with others?
Research methods – How do you carry out psychological research?
Travel and Tourism
The Travel and Tourism Tech Award Level 2 is a new BTEC course. The course is ideal for students wanting to find out about the importance of travel and tourism to the UK and world economies and to build the skills and knowledge to further learning.
The qualification provides an engaging and stimulating introduction to the world of travel and tourism. It includes both UK and international tourism and allows students to explore current issues affecting global travel and tourism organisations and destinations. What's more, it includes topics such as destination management and relationships between organisations, as well as social and ethical responsibilities/sustainability.
Students will explore some of the key areas within the sector, including the contribution of travel and tourism to the UK economy, tourism development, how organisations meet customer needs, the appeal of different destinations, as well as the impact of travel and tourism on local communities both environmentally and economically.
The course can lead to a variety of jobs within the tourism industry such as cabin crew, airport staff, travel agencies, cruise ship staff, events staff, travel agents, tour guide, and many more.