Personal Development
British Values and SMSC
At Armthorpe Academy we are committed to developing and preparing students for a healthy and prosperous life during and after school. This is done in a variety of different ways; through Citizenship lessons; form time; assemblies and embedding British values across the curriculum.
Please see the attached documents for further information about the Personal Development curriculum at Armthorpe Academy: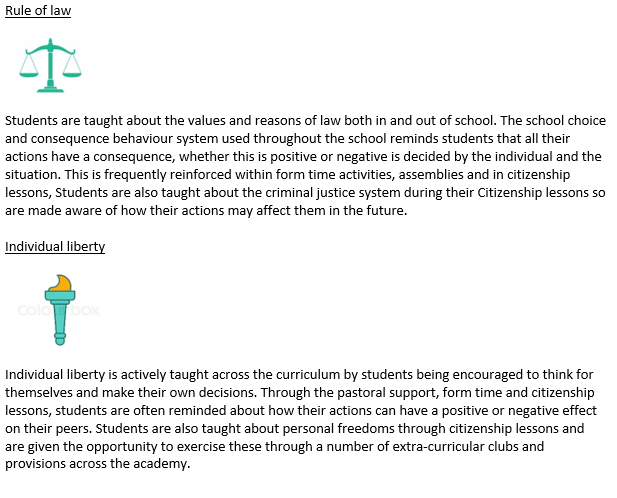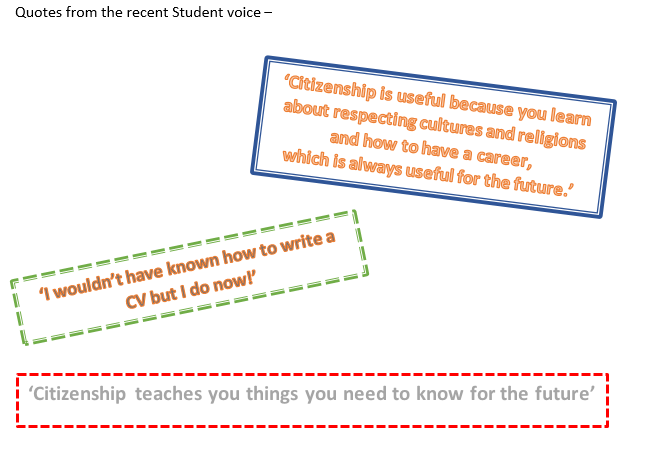 Promoting the EBacc
All our students study History, Geography, Computer Science, Science, and MFL (French) in Y7, 8, and 9 to ensure they experience a broad and academic curriculum. In addition, some students study a second language (Spanish) in Y7 to further broaden their experience.
At GCSE level, all students study at least one EBacc subject and an increasing number of students study two or more. All students have a one-to-one meeting with the Vice-Principal (Quality of Education) and SENDCo (where relevant) to identify the most appropriate GCSE options to support their interests, progression, and aspirations and the value of the EBacc subject suite is promoted in these meetings.
Historically, numbers of students achieving the EBacc have been low, with MFL being a limiting factor. In response, we have hired a second MFL teacher to allow us to run more than one option group as demand increases and to introduce a second language into KS3. We have introduced a Subject Leader for MFL role and the MFL curriculum has been overhauled. Furthermore, we are promoting the benefits of studying MFL through Form Time, Citizenship, and Careers Education and through events such as the European Day of Languages.
We offer a range of student trips and visits to European countries so that students benefit from these cultural experiences. We are already seeing the impact of these changes: we have moved from 7 per cent of the KS4 cohort studying MFL two years ago up to 25 per cent of the current Y10 cohort. We will see these figures increase further over the coming years, moving towards the government aspiration of 90 per cent of students studying the EBacc at KS4.
For further information regarding the EBacc, please contact Andy Bridge, Vice Principal.
Supporting Students with SEND
SEND- Curriculum Rationale
Providing our SEND students with a personalised curriculum that is ambitious, while enabling progress and success, both in school and beyond, is a fundamental priority of the SEN department at Armthorpe Academy.
Without a doubt, we want to ensure our students have an entitlement to a broad and balanced curriculum, accessing quality first teaching and learning experiences. As a school, we understand the value of enrichment activities not only inside the classroom but also outside and make reasonable adjustments to make sure all activities are fully accessible to all learners, including those with SEND. We take a whole-school approach, which ensures that the support we offer is interwoven and embedded into this.
At Armthorpe Academy, we offer a range of interventions at both KS3 and KS4 that support young people in overcoming any barriers to learning they may experience. Through rigorous assessments, within Y7, we are able to identify students who may need some additional support and implement appropriate interventions where necessary.
We have a team of experienced and skilled LSAs, who support both within the classroom and who are also trained in delivering specific small group/ 1:1 interventions. Our interventions cover all areas of need, as identified in the Code of Practice (2015), and are regularly quality assured and impact evaluated.
As a school, we have identified that almost 20 per cent of our students may experience literacy difficulty, to different degrees. Already, the school has implemented a reading curriculum to encourage an enjoyment of reading across the school and our literacy interventions complement this. Within the school, we offer a phonics-based intervention (PIXL phonics), which is a reading accuracy intervention, that draws on evidence-based methods to help students retain the knowledge of words in the long term. Alongside this, we also use the Accelerated Reader program, which enables the school to monitor reading practice and progress.
Further to this, we have a number of interventions that support in meeting a young person's SEMH needs. Drawing on already established packages such as 'The Zones of Regulation', 'Starving the Anxiety/ Anger Gremlin', and 'I Am Unique'. We have also worked in collaboration with the EPS to create an intervention based around developing resilience. Within school, students also have access to keyworkers, external mentors, and drop-ins with the School Nurse.
Statistics and facts shared by the Speech and Language Team highlighted that a significant amount of students experience speech, language, and communication needs. Consequently, the school has an LSA, who is identified as the Speech and Language Champion and attends termly training to enhance her knowledge and understanding of this area. Utilising this training, and as part of the graduated approach, the member of staff also delivers in-school interventions 'Secondary Language Link'.
Our KS4 curriculum is currently under review and we are excited to be launching the Prince's Trust this academic year, which offers recognised qualifications while supporting students in developing key skills.
In addition, we offer support to students in developing their independence and life skills, through travel training. Working in partnership with ASCETs, the school support students with key life skills, such as: making independent journeys, using public transport and going shopping.
As a team, we offer intensive support with transition at every key stage. We pride ourselves on the transition from KS2-KS3, offering additional visits, which include fun and engaging sessions with key staff within the school. In terms of the transition from KS3/KS4, the SEND team support the whole school process, as the SENDCo, or an LSA (who is a keyworker for a SEND student) will attend the individual meeting with the students, parents, and Vice-Principal (Quality of Education), so the students' options suit the strengths, interests and career aspirations.
When students are making the transition from KS4 to post-16, SEND students are supported by weekly meetings with their keyworker (LSA). In addition, college staff are invited to SEN Support Plan/ EHCP reviews.
The Learning Zone
The Learning Zone is managed by Mrs Crump, our SEN & Inclusion Leader.
The Learning Zone is a nurturing, safe environment where students may need to seek access and support for a variety of different reasons. It provides a place where our students feel listened to, supported, and able to gain confidence. They work through specific strategies to enable them to manage their school day within the Learning Zone with a view to a return to mainstream lessons.
Our students fall into four main categories:
Part-time timetable students
Educational focus on literacy and numeracy, in line with either current mainstream curriculum content or bespoke catch-up content, dependent on need. Behavioural focus on social skills development.
Behavioural support needs
Students are removed from mainstream lessons for a minimum of six weeks after exhibiting significant behavioural issues over an extended period of time.
The curriculum focus is on core content, in-line with their year group. Mrs Crump liaises closely with faculty leaders to ensure content runs concurrently with mainstream lessons to ensure a smooth reintegration back into mainstream lessons.
Additional needs around social skills and developing strategies to recognise and rectify inappropriate behaviours are built around the core curriculum time.
SEMH/SEN
Students are removed from mainstream lessons for a period of time, dependent on severity and need. Mainstream lesson content is followed, with core subjects being a priority.
Learning Zone staff then work alongside CAMHS, the educational psychologist, and individual Support Plans to develop and deliver content that helps to alleviate anxieties and develop strategies to enable students to return to mainstream lessons.
Some students may spend the majority of time in Learning Zone if they are working below expected levels and have a curriculum that meets their needs and reinforces their development, with a view to accessing mainstream lessons with support from Learning Zone staff.
New to the school
New students to the school also come into Learning Zone to complete assessments to allow faculty leaders to place them in the correct sets. They will spend three days in the provision for assessment, acclimatisation, and integration, covering rules, regulations, and expectations, as well as on day three looking at what their peers will be studying to prepare them for as seamless a transition as possible into mainstream lessons.
Prior to Covid 19, students were able to access Learning Zone support on an ad-hoc basis. This aspect of the provision is not viable under current risk assessment restrictions.